ABOUT SCIENCE, BOOKS, LIBRARY, SCHOOL
ABOUT SCIENCE, BOOKS, LIBRARY, SCHOOL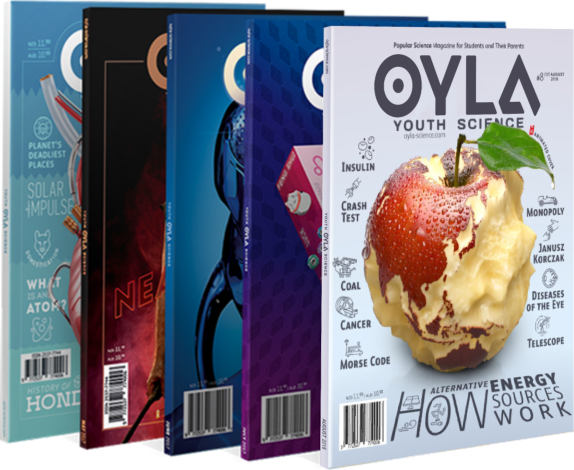 OYLA Youth Science (OYLA YS) is the scientific books designed for science lovers and online English STEM school - Planet of knowledge ( www.oyla-science.com/school )
Maybe your kid is a genius? Want to check? Give him the opportunity to study science at our online school. Your efforts will not be in vain - a wonderful future for your child will be ensured! How much to learn? How do you learn? What science does your child love? Maybe he 's a future great scientist? Maybe he can make great discoveries? Give the world the opportunity to recognize your brilliant child! Let him learn!
Check our school page - https://www.planetofknowledge.org
PLANET OF KNOWLEDGE SCIENCE SCHOOL
Our Science Library open 24/7/365
The focus and content of the books are based on the STEM (Science, Technology, Engineering, and Mathematics) concepts. All articles and contents are endorsed, prepared, and proofread by professors and industry experts.
The main distinctive feature of OYLA Youth Science is that we explain complex subjects in simple words along with informative graphics which makes it easier for young readers.
The books are printed with the technology of Augmented Reality and on each book, you can see a new interesting cover!
Contributors are recognized professors, teachers, scientists, industry experts, designers, and so on, who have vast experiences and come from a variety of backgrounds. We sincerely believe in the bright future of science and our goal is to popularise science amongst the young generation.
Each book of the OYLA Youth Science contains a surprise. The cover of the book is made using the technology of Augmented Reality. In order to see the animated cover, you need to download the mobile application and enjoy an interesting cover! The application works for the printed version and for the digital version of the book.
OYLA Science AR - Mobile App (Augmented Reality)
Apple Store
Google Play